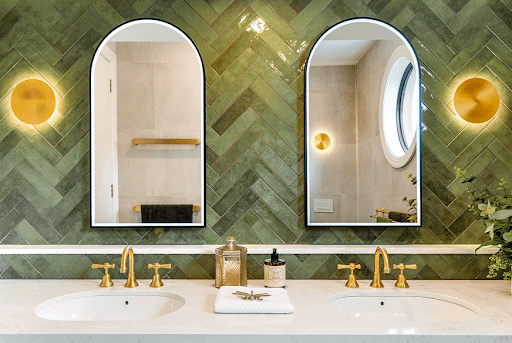 Brass tapware has proven itself to be highly versatile.
The use of brass can add lustre to a luxury kitchen or bathroom, or you can play on the muted tones to add a warm touch to a contemporary space. The beauty of brass tapware is it's easily teamed with matching cabinetry handles and mirrors. 
The abundance of options and many nuances of brass tapware on offer can be overwhelming, especially if you're new to renovating. Covering a wide range of tones from moody to earthy and quiet neutrals, not to mention the different coating terminology.
Let's break it down to crush any confusion.
Raw brass tapware and accessories are brass that hasn't been coated. When new raw brass tapware is bright gold in colour, and ages gracefully over time, changing from golden to a dark organic gold patina. As raw brass ages spots appear on pieces such as taps and spouts, these are simply part of the aging process. This style is not for you if you like your brass to stay bright, golden, and evenly coloured.
DMF (Direct Molecular Fusion)
DMF stands for Direct Molecular Fusion It's the ultimate brass tapware finish in the market. DMF is a highly engineered finish that doesn't allow your tapware to easily scratch or change colour and is easy to clean. DMF uses dry processing technology, which helps it stand the test of time. It's no wonder that companies such as Faucet Strommen (who offer DMF finishes on their coloured tapware), feel assured issuing a 40-year warranty on their tapware and accessories with this finish.
PVD (Physical Vapour Deposition)
PVD stands for Physical Vapour Deposition, which is a technique that provides a high-performance coating over the surface of Brass tapware and accessories. This helps create a product that is resistant to scratches, corrosion, UV radiation and discolouration. Plus, it's easy to clean. Companies such as Brodware offer high quality PVD finishes on their brass and coloured tapware, and issue 20-year warranty on their tapware and accessories with this finish.
Like DMF finishes PVD is widely used to protect the quality of your brass and coloured tapware, whether it be brushed brass, bronzed, aged or polished brass tapware and accessories. Not to mention, both DMF and PVD finishes are environmentally and socially responsible.
How to Clean Your Brass Tapware
Cleaning PVD or DMF coated brass tapware
Each week clean your PVD or DMF coated tapware with warm soapy water and a microfiber cloth. 
Wash down tapware with warm soapy water, wiping over with a damp cloth to remove any marks.
Buff dry with a dry microfiber cloth.
Cleaning Raw Brass Tapware with limescale
Mix a 1.1 ratio of white vinegar and water in a spray bottle.
Spray over the tapware and let sit for a couple of minutes. 
Give it a quick scrub with a microfiber cloth and rinse tapware clean. 
Using a clean, dry microfiber cloth to buff dry.
Cleaning Tarnished Raw Brass Tapware
Combine the juice of ½ a lemon and 1 teaspoon of baking soda, stir into a paste.
Apply the paste on a clean cloth to tarnished brass tapware. Always rub the brass in   the taps brushed direction. 
If heavily tarnished, leave the cleaning paste to sit for 30 minutes. 
Rinse well and buff dry with a soft cloth.
Cleaning Heavily Discoloured Raw Brass Tapware
Suitable for heavily discoloured brass tapware and is also good for removing limescale.
Mix ½ cup of white vinegar, 1 teaspoon of salt and add a sprinkle of flour to form a   paste.
Spread over the brass until it covers the tapware.
Allow to sit for 5-10 mins.
Rub in the direction of the brushed brass tapware with a clean damp microfiber (do not rub in small circles, this will start to remove the discolouration of the brass).
Rinse with cold water and use a clean dry microfiber cloth to buff dry.


If discolouration is heavy, repeat the process.
Tapware companies do not recommend using scouring pads when cleaning brass tapware, always use a microfiber cloth instead!

After doing a deep dive into the various cleaning solutions for brass tapware, we set about testing all the methods listed above. So you know that they not only work, but won't harm your tapware. If your brass tapware is heavily tarnished, you may need to repeat the cleaning process.