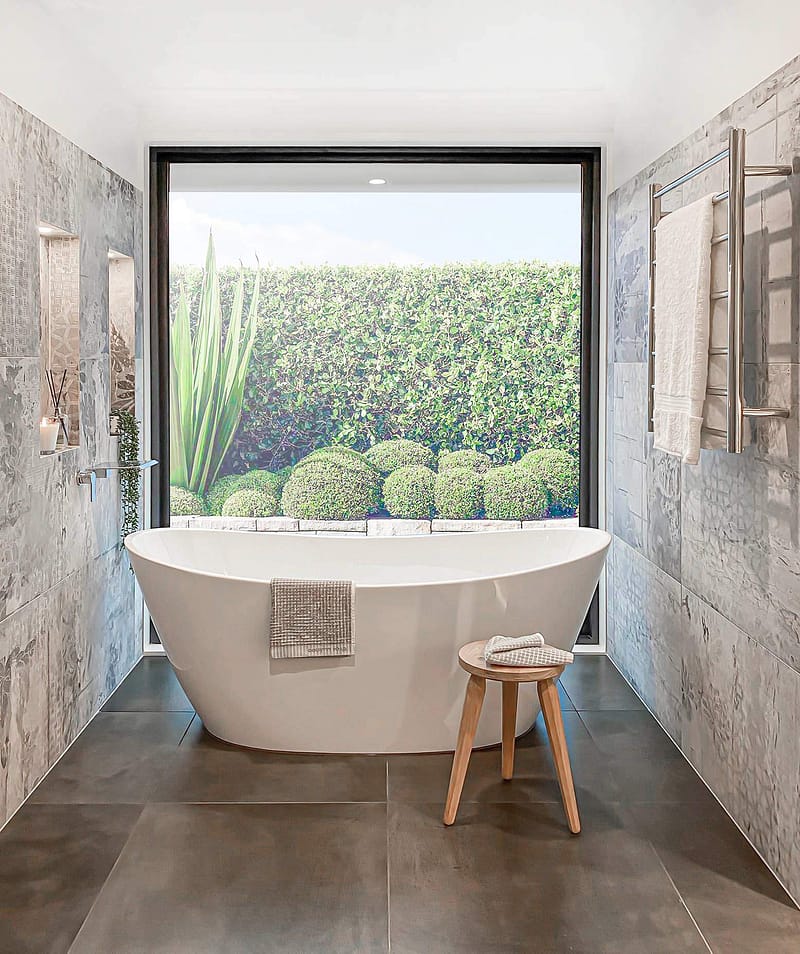 If the thought of coordinating a bathroom renovation makes you excited, read ahead for some tips you might like to consider.
If styling is not your forte, don't worry! Our showroom located in Deepdene, Victoria and is a one stop shop for all things bathroom.
In 2023, we are seeing more people saying goodbye to cool greys and hello to soft, warm tones. The use of natural, earthy colours like taupe, beige and warmer greys create a soothing and relaxing atmosphere in the bathroom.
 These tones are often paired with materials like timber and stone to add warmth and texture to the space. 
Textured feature tiles have become a popular choice for bathrooms in recent years. These tiles add depth, dimension and visual interest to a bathroom, making it more appealing and unique.
Textured tiles can come in a variety of materials like porcelain, ceramic or natural stone, and the selection of different patterns, shapes and colours is endless.
Some popular styles that we are loving include Handmade Spanish Tiles, Decorative 3D Tiles and Natural Stone Mosaics. When used as a feature wall or splashback, textured tiles can make a bold statement and create a stunning focal point in the space.
Decorative lighting can add a touch of elegance and sophistication to any bathroom. 
In 2023, we are seeing an increasing interest in integrating decorative lighting into bathroom designs.
Whether it's pendants, wall sconces or ornate ceiling lights, there are many different styles and materials available to elevate any style of bathroom and when used correctly, can really be that perfect finishing touch.
Incorporating elements of the outdoors is the key to creating a calming oasis which is a trending theme in bathroom design at the moment.
This trend is all about creating a tranquil, spa- like atmosphere at home. Natural materials like wood and stone, as well as the soft, earthy tones that we discussed earlier are key features in this style, often paired with other elements like indoor plants to further enhance the cozy, welcoming feel.
In addition, large windows and skylights can be used to invite natural light to flood the space, further connecting the bathroom to the outdoors.
Bespoke vanities have become increasingly popular in recent years as homeowners seek to create unique and personal bathroom designs.
A bespoke vanity, being a custom- made piece of furniture, can be tailored to fit the specific needs and style of any space and allows designers or homeowners to create a unique focal point in their bathroom which is both beautiful and practical. 
Some trending features of custom vanities include solid timber, fluted door/ drawer fronts, curved edges and lots of storage space!
Handles: The Finer Details
Decorative handles can be a small but impactful addition to any bathroom design.
What was once overlooked as a minor detail and perhaps even considered a little boring, is now seen as the key to adding personality, style and functionality to your cabinetry. With a wide variety of shapes, sizes, materials and finishes, we are spoilt for choice when it comes to selecting handles.
They are such a subtle yet effective way of making a space feel more cohesive and stylish.
Whether it's adding the finishing touch on a new custom vanity, or wanting to simply refresh an existing space, there really is something for everyone.
Don't be Afraid of Colour
In 2023 we are not afraid of colour, in fact, incorporating colour into a bathroom design is such a beautiful way of elevating the space and adding your own personal touch of character and vibrancy.
Colour can be used to create a contrast and a focal point in the space, or to complement the other elements to enhance the overall mood and aesthetic of the space.
There are a few different ways of incorporating colour, with the most common two being to use a coloured tile as a feature wall, or by opting for a vanity in a custom painted finish.
If decision making skills aren't your strong point, you can also introduce colour by dressing up the space with some fun towels and decorative pieces.
Some trending colours that we are loving at the moment are greens, dusty blues, cool lilacs and warm earthy terracottas. 
Designing bathrooms with accessibility in mind is essential to ensure they remain functional for people both now and in the future. Homeowners are interested in the idea of future- proofing their space to ensure longevity in the design.
This concept is about enforcing some extra steps at the current renovation stage, to make it easier to install/ implement accessible features years down the track.
Some ways that this can be done is to ensure that there is adequate blocking in the walls that will be able to hold the weight of a grab rail for when that time comes. Another tip is to opt for non- slip tiles on the floors which will minimize the risk of slipping in the shower.
Large, open showers with built in bench seats are becoming more common, and are a great alternative, design wise, to the fold up plastic ones. By incorporating these features into current bathroom designs, you can ensure that they remain functional for everyone, regardless of their physical abilities, well into the future.
Visit our expert design consultants in-store to help with your selection.